catalogue:
Swingcheck valve.pdf
Introduction forswing check valve
Swing check valve is one type for the check valves, the check valve have anther name is non-return valve,this swing check valve only can horizontal installation,the speed of the closing for swing check valve is very quickly , also the seal is very good,the highest pressure for swing check valve can up to 2500LB(PN420), the body of the check valve can choose forged material or choose cast steel,this valve is opened or closed by the valve disc to rotate around the spindle outside the seat of the valves; it is an automatic valve, working principle of this valves are automatically opened or closed by the force generated by the medium flowing within the pipeline. Its major function is to prevent the backflow of the medium in the pipeline, reverse rotation of the pump and its driving motor, and discharge of the medium in the container.
Features forswing check valve
Compact and reasonable product structure, reliable tightness and good performance;
Smooth fluid passageway and small fluid resistance;
Swing type disc.
Can be designed with a Damping Cylinder.
Rapid closing and flexible actions of the valve disc .
Small closing impact, water hammer is not liable to be generated.
Smooth fluid passageway and small fluid resistance.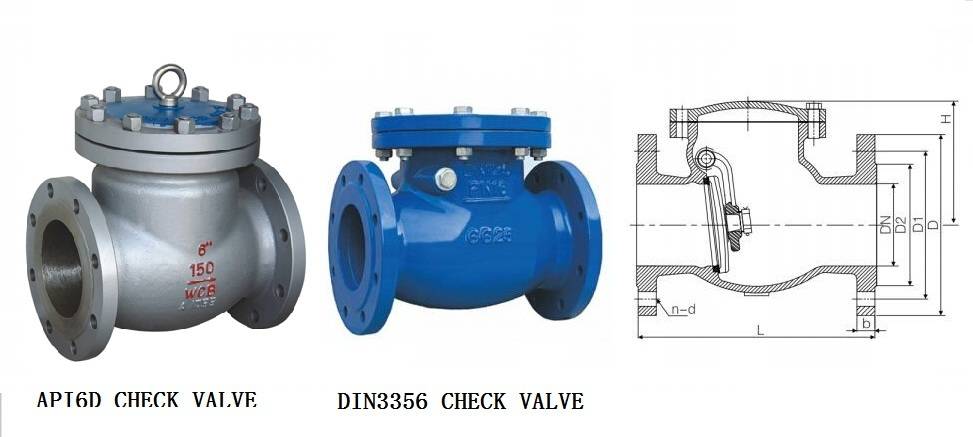 Product Specification
Face to Face


Design Spec.
Flange End
Test & Check
Pressure-Temp.
Supply
Product Specification
API600
ANSI B 16.10
ANSI B 16.5
API598
ANSI B 16.34
MSS SP-25
API600
API6D
API6D
API6D
API6D
Materiallist
| | | | | | |
| --- | --- | --- | --- | --- | --- |
| Part name | Part Material | | | | Part Name |
| Body/Bonnet | A216-WCB | A217-WC6 | A352-LCB | A351-CF8M | Body/Bonnet |
| Dissc | A105 | A182-F11 | A182-F304 | A182-F316 | Dise |
| Rotating shaft | A216-WCB | A217-WC6 | A182-F6a | A182-F316 | Swing Arm |
| Gasket | 18~8 /18~8Flexible Graphite | | | | Gasket |
| Bolt | A193-B7 | A193-B7 | A193-B7M | A193-B8 | Bolt |
| Temperature | -29~425°C | -29~550°C | 46~350°C | 40~550°C | Suitable Temp. |
| Medium | 7KWater, OilSteam | Steam, Oil | Steam , Oil | Nitric Acid | Suitable Medium |
Main External and Connection Dimension (单位Unit:mm)
Type
NPS
DN
Main external and connection dimension
in
mm
L
D
D1
D2
b
z-φd
H
2"
50
203
152
120.6
92
19
4-φ19
161
21/2"
65
216
178
139.7
105
22
4-φ19
180
3"
80
241
190
152.4
127
24
4-φ19
190
4"
100
292
229
190.5
157
24
8-φ19
203
5"
125
330
254
215.9
186
24
8-φ22
229
H44Y-150Lb
6"
150
356
279
241.3
216
25
8-φ22
257
8"
200
495
343
298.4
270
29
8-φ22
292


10"
250
622
406
362
324
30
12-φ25
355
12〃
300
698
483
431.8
381
32
12-φ25
396
14"
350
787
533
476.2
413
35
12-φ25
445
16"
400
864
597
539.8
470
37
16-φ29
490
18"
450
978
635
577.8
533
40
16-φ32
520
20〃
500
978
698
635
584
43
20-φ32
546
24"
600
1295
813
749.3
692
48
20-φ35
880
2"
50
267
165
127
92
22
8-φ19
179.5
21/2"
65
292
190
149.4
105
25
8-φ22
190
3"
80
318
210
168.1
127
29
8-φ22
212.4
4"
100
356
254
200.2
157
32
8-φ22
246
5"
125
400
279
235
186
35
12-φ22


6"
150
444
Related Products