Catalogue:
Forged gate,globe,check valve.pdf
Introduction for Forged steel globe valve:

OS & Y Type, Rising Stem, Bolted Bonnet ASA / ND Design
The Globe Valves from our comapny are outside screw, rising Stem, bolted bonnet cnstruction, threads are away from the line fluid and easy to lubricate.this type globe usually used for the high pressure piping line,because all of the parts for the globe valve are forging,the quality of this forged steel globe valves is very good in china.
The Globe Valves are generally available with plug type disc, all of the part for the globe valve are forging, so it is very strong,the body of the globe valve must be phosphating, so it no need spray paint, because the phosphating instead of the painting ,the disc can rotate around itself,so it no need with the stem rotate simultaneously ,when the workers open and close the valve(Rotary the stem),this This structure design ensures the disc is not easy to wear . which is designed to give leak tight seating over a long period of in built wear life. the seat ring of the globe valve is replaceable type, the threaded seat ring which has large taper area that is for ample seating. two nos. slots are provided on seat ring of body, which is for easy removal for servicing at site. Integral seat ring is also available in globe valve. all of stems are made from solid one piece construction.they also are forging, the yoke bush of globe valve has a long thread engagement for accurate stem alignment. The standard range of our company's globe valve in sizes of up to 3(80mm)
The features for forged steel globe valves:
Design standard as per: BS1873,API602, GB/T 12235, DIN3356
Generally, lift of disc is just 1/4 of the valve seat port, ensuring a short opening and closing time.
Only one sealing face is designed on the valve body and valve disc,
For large size valves will be designed with main disc and vice disc type, and medium flow from up disc to down disc.
Full stellite overlay seat sealing surface
Good for manufacturing process and easy to maintain.
The valve is designed as a back seat sealing structure.
Use flexible and woven graphite collaboration type packing or PTFE packing(V type).
Optional by-pass design,
Top flange size as ISO5211 design easy to install pneumatic actuators and electric actuators
Dimensional drawing for forged globe valve:
Product Description:

OS&Y, Rising stem, Flexible Wedge
Bolted Bonnet,Threaded or welded seat ring
A105 LF2,F304, F304L, F316,F316L,F321,MONEL
Standards Compliance:
Design and Manufacture: ANSI B16.34, API600 API6D, API602, BS1867
Face to face(end to end): ANSI B16.10, API6D
Flanged connection: 1/2"~3" to ANSI B16.5
Test and inspection: API598
Butt welded end: ANSI B16.25
Forged steel Flanged End Globe Valve 150Lb~1500L - RF,RTJ
Standard Material Specifications (Class 150Lb~600Lb)

NO.
Part Name
CS to ASTM
AS to ASTM
SS to ASTM
Type A105
Type F22
Type F304(L)
Type F316(L)
1
Body
A105
A182 F22
A182 F304(L)
A182 F316(L)
2
Gasket
Corrugated SS + graphite
SS + PTFE
3
Bonnet Bolt
A193 B7
A193 B16
A193 B8
A193 B8M
4
Pin
A276 420
A276 304
5
Gland
A276 410
A182 F304(L)
A182 F316(L)
6
Gland Eyebolt
A193 B7
A193 B16
A193 B8
A193 B8M
7
Gland Nut
A194 2H
A194 4
A194 8
A194 8M
8
Yoke Nut
A276 410
9
H.W. Nut
A194 2H
A194 4
A194 8
A194 8M
10
Nameplate
SS
11
Hand wheel
A197
12
Gland Flange
A216 WCB
A351 CF8
13
Stem Packing
Flexible Graphite
PTFE
14
Bonnet
A105
A276 304
A182 F304(L)
A182 F316(L)
15
Stem
A182 F6
A182 F304
A182 F304(L)
A182 F316(L)
16
Disc
A276 420
A276 304
A276 304(L)
A273 316(L)
Suitable Medium
W.O.G. etc
W.O.G. etc
HNO3,CH3OOH etc
Suitable Temperature
-29℃~425℃
-29℃~550℃
-29℃~180℃
Dimensions(mm) And Weights(kg)
NPS (in)
1/2
3/4
1
1-1/4
1-1/2
2
L(RF)L1(BW)
150
108
117
127
140
165
203
300
152
178
203
216
229
267
600
165
190
216
229
241
292
H(OPEN)
150~300
166
171
207
240
258
330
600
171
207
240
258
330
380
W
100
100
125
160
160
180
Weights
150
RF
4.5
6.9
9.8
13.5
19.5
28.0
BW
2.3
3.6
7.8
8.2
12.0
15.0
300
RF
4.8
7.7
11.0
16.8
21.2
32.6
BW
2.8
4.0
8.5
9.2
12.6
16.8
600
RF
5.6
7.8
12.5
17.0
23.5
38.8
BW
3.4
4.7
9.2
10.5
13.3
18.9

Standard Material Specifications (Class900Lb~1500Lb)
NO.
Part Name
CS to ASTM
AS to ASTM
SS to ASTM
Type A105
Type F22
Type F304(L)
Type F316(L)
1
Body
A105
A182 F22
A182 F304(L)
A182 F316(L)
2
Gasket
Corrugated SS + graphite
SS + PTFE
3
Bonnet Bolt
A193 B7
A193 B16
A193 B8
A193 B8M
4
Pin
A276 420
A276 304
5
Gland
A276 410
A182 F304(L)
A182 F316(L)
6
Gland Eyebolt
A193 B7
A193 B16
A193 B8
A193 B8M
7
Gland Nut
A194 2H
A194 4
A194 8
A194 8M
8
Yoke Nut
A276 410
9
H.W. Nut
A194 2H
A194 4
A194 8
A194 8M
10
Nameplate
SS
11
Hand wheel
A197
12
Gland Flange
A216 WCB
A351 CF8
13
Stem Packing
Flexible Graphite
PTFE
14
Bonnet
A105
A276 304
A182 F304(L)
A182 F316(L)
15
Stem
A182 F6
A182 F304
A182 F304(L)
A182 F316(L)
16
Disc
A276 420
A276 304
A276 304(L)
A276 316(L)
Suitable Medium
W.O.G. etc
W.O.G. etc
HNO3,CH3OOH etc
Suitable Temperature
-29℃~425℃
-29℃~550℃
-29℃~180℃
Dimensions(mm) And Weights(kg)
NPS (in)
1/2
3/4
1
3/4
1-1/2
2
L(RTJ)
900~1500
216
229
254
279
305
371
L1(BW)
900~1500
216
229
254
279
305
368
H(OPEN)
207
207
240
258
330
355
W
125
125
160
160
180
200
Weights
RTJ
8.0
13.2
17.4
19.0
24.5
31.0
BW
5.2
10.0
14.6
15.8
20.5
27.8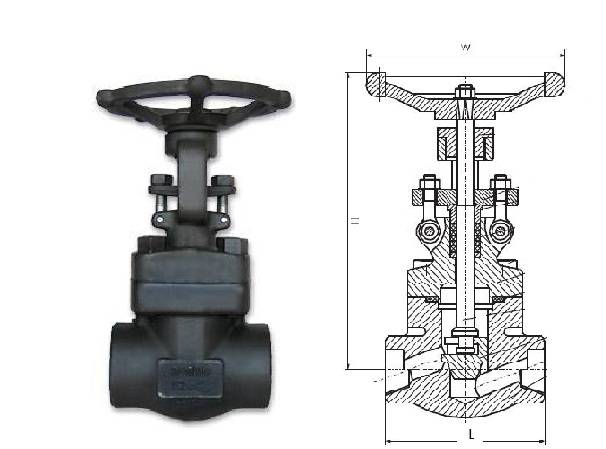 Standard Material Specification
| | |
| --- | --- |
| Part Name | Material |
| Body | ASTM A105, ASTM A182 F11, F22, F5, F9, ASTM A182 F304, F316, F321, F304L, F316L |
| Disc | ASTM A105, ASTM A182 F11, F22, F5, F9, ASTM A182 F304, F316, F321, F304L, F316L |
| Stem | ASTM A182 F6a, ASTM A182 F22, ASTM A182 F304, F316, F321, F304L, F316L |
| Gasket | Graphite & stainless steel |
| Bonnet | ASTM A105, ASTM A182 F11, F22, F5, F9, ASTM A182 F304, F316, F321, F304L, F316L |
| Bolt | ASTM A193 B7, A320 B8, A193 B8M |
| Packing | Graphite |
| Packing gland | ASTM A105, ASTM A182 F11, F22, F5, F9, ASTM A182 F304, F316, F321, F304L, F316L |
| Gland board | ASTM A216 WCB, ASTM A351 CF8, CF8M, CF8C, CF3, CF3M |
| Stem nut | Copper Alloy |
| Handwheel | ASTM A47-32510 |
Dimensions and Weights
DN (mm)

NPS (in)

Dimensions

Weight (kg)

RB

FB

RB

FB

L

H

W

15

10

½

3/8

111

205

125

4.5

20

15

¾

½

111

205

125

5.3

25

20

1

¾

130

240

160

6.8

32

25

1 ¼

1

150

258

160

8.5

40

32

1 ½

1 ¼

172

290

160

12.6

50

40

2

1 ½

220

336

180

19.2

50

2

230

428

234

30
Related Products