Catalogue:
Cast steel gate,globe,check valves.pdf
Introduction for cast steel globe valve:

The globe valve have anther name is stop valve,OS & Y Type, Rising Stem, Bolted Bonnet ASA / ND Design
The Globe Valves from our comapny are outside screw, rising Stem, bolted bonnet cnstruction, threads are away from the line fluid and easy to lubricate.
The Globe Valves are generally available with plug type disc, they also are the forging, so it is very strong, the disc can rotate around itself,so it no need with the stem rotate simultaneously ,when the workers open and close the valve(Rotary the stem),this This structure design ensures the disc is not easy to wear . which is designed to give leak tight seating over a long period of in built wear life. the seat ring of the globe valve is replaceable type, the threaded seat ring which has large taper area that is for ample seating. Two nos. slots are provided on seat ring of body, which is for easy removal for servicing at site. Welded type seat ring & Integral seat ring are also available in globe valve. all of stems are made from solid one piece construction.they also are forging, the yoke bush of globe valve has a long thread engagement for accurate stem alignment. The standard range of our company's globe valve in sizes of up to 12 (300mm)
The features for cast steel stop valves:
Design standard as per: BS1873,ASME B16.34, GB/T 12235, DIN3356
Generally, lift of disc is just 1/4 of the valve seat port, ensuring a short opening and closing time.
Only one sealing face is designed on the valve body and valve disc,
For large size valves will be designed with main disc and vice disc type, and medium flow from up disc to down disc.
Full stellite overlay seat sealing surface
Good for manufacturing process and easy to maintain.
The valve is designed as a back seat sealing structure.
Use flexible and woven graphite collaboration type packing or PTFE packing(V type).
Optional by-pass design,
Top flange size as ISO5211 design easy to install pneumatic actuators and electric actuators
Dimensional drawing for globe valve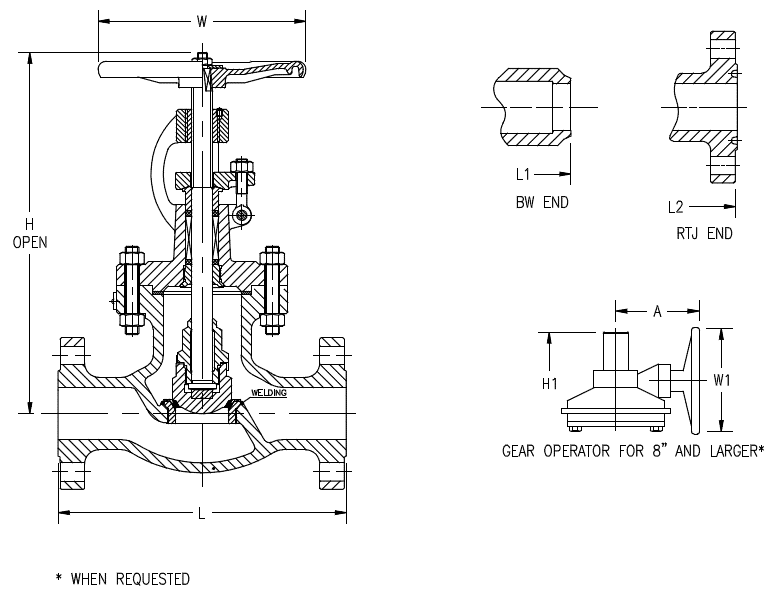 产品性能规范
公称压力(LB)
壳体试验压力(MPa)
密封试验压力(MPa)
适用温度(℃)
使用介质
150
3.0
2.2
≤350℃
水、蒸汽、油品等
300
7.5
5.5
600
15.0
11.0
900
22.5
16.5
主要零部件材质
| | | |
| --- | --- | --- |
| 序号 | 名称 | 材质 |
| 1 | 阀体 | ASTM A216-WCB ASTM A217-WC1、WC6、WC9、C5 ASTM A351-CF8、CF8M、CF3、CF3M |
| 2 | 阀瓣 | ASTM A182-Gr.F6a ASTM A182-F22 ASTM A182-F304、F316、F321、F304L、F316L |
| 3 | 对开圆环 | ASTM A182-Gr.F6a ASTM A182-F22 ASTM A182-F304、F316、F321、F304L、F316L |
| 4 | 阀瓣盖 | ASTM A182-Gr.F6a ASTM A182-F22 ASTM A182-F304、F316、F321、F304L、F316L |
| 5 | 阀杆 | ASTM A182-Gr.F6a ASTM A182-F22 ASTM A182-F304、F316、F321、F304L、F316L |
| 6 | 垫片 | 柔性石墨+不锈钢 |
| 7 | 阀盖 | ASTM A216-WCB ASTM A217-WC1、WC6、WC9、C5 ASTM A351-CF8、CF8M、CF3、CF3M |
| 8 | 波纹管组件 | ASTM A182-F304、F316、F321、F304L、F316L |
| 9 | 填料 | 柔性石墨 |
| 10 | 填料压盖 | ASTM A216-WCB ASTM A217-WC1、WC6、WC9、C5 ASTM A351-CF8、CF8M、CF3、CF3M |
| 11 | 阀杆螺母 | 铜合金 |
| 12 | 手轮 | ASTM A536 Gr.60-40-18、A216-WCB |
| 13 | 定位片 | 25、45、304、316、304L、316L |
| 14 | 双头螺栓 | ASTM A193-B7、A320-B8、A193-B8M |
| 15 | 六角螺母 | ASTM A194-2H、A194-8、A194-8M |
产品具体参数
型号
YDAWL41-150LB
压力等级
150LB
口径Size
mm
15
20
25
32
40
50
65
80
100
125
150
200
250
300
350
in
1/2
3/4
1
11/4
11/2
2
21/2
3
4
5
6
8
10
12
14
L
108
117
127
140
165
203
216
241
292
356
406
495
622
698
787
H
241
241
241
280
286
368
387
400
457
520
609
698
762
876
990
W
120
140
140
180
200
220
260
280
300
320
340
400
450
450
450
重量(kg)
4
5
6
10
13
18
30
35
55
75
104
200
300
390
610
型号
YDAWL41-300LB
压力等级
300LB
口径Size
mm
15
20
25
32
40
50
65
80
100
125
150
200
250
300
350
in
1/2
3/4
1
11/4
11/2
2
21/2
3
4
5
6
8
10
12
14
L
152
178
203
215
229
267
292
318
356
400
444
559
622
711
762
H
241
241
283
320
322
399
438
450
584
610
660
762
850
1085
1187
W
120
140
140
180
200
220
260
280
300
320
340
400
450
450
450
重量(kg)
6
7
10
15
20
25
30
52
88
115
160
259
420
595
876
型号
YDAWL41-600LB
压力等级
600LB
口径Size
mm
15
20
25
32
40
50
65
80
100
125
150
200
250
300
350
in
1/2
3/4
1
11/4
11/2
2
21/2
3
4
5
6
8
10
12
14
L
165



Related Products