The brass safety valve suitable for water supply and drainage system and low pressure piping line.the all of the parts are the brass material.
Safety valves with threaded connections are used for handling small and medium mass flows. The LESER threaded connection safety valves are notable for their wide range of set pressures, compact overall dimensions and light weight.
There are two series available:
Safety relief valve spring loaded for small mass flows (e.g. thermal expansion and overflow). Body material: stainless steel or brass

Full lift safety valve spring loaded for the medium mass flow range (e.g. small scale or pilot plant). Two body materials: stainless steel or brass.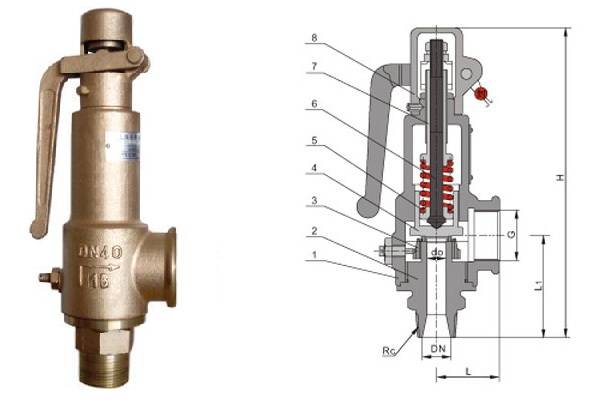 1.working principle of brass brass safety valve :
When the medium pressure goes up adjustable data automatically,then let them all ,so as to keep the pressure from going up,and when the pressure goes down another adjustable data,the valve will close automatically,so as to prevent the medium from leaking.
2.Setting pressure rating:
Nominal pressure(MPa)

Setting pressure rating

1.0

0.06~0.1

0.1~0.16

0.16~0.25

0.4~0.6

0.6~0.8

0.8~1.0
3.Scope of application and material list:
Type

Cast iron
A27W-10T

Applicable size

DN15~DN80

Temperature

≤200°C

Applicable medium

W O G

材料

1、Body

Brass

2、Seat

Brass

3、Adjust ring

Brass

4、Disc

Brass

5、Spring

50CrVa

6、Sem

Brass

7、Adjust bolt

C.S

8、protection cover

Brass

Sealing material

Brass
Related Products