Introduction for angle type globe valve

The angle globe valve have anther name is angle stop valve,OS & Y Type, Rising Stem, Bolted Bonnet ASA / ND Design
The angle globe Valves from our comapny are outside screw, rising Stem, bolted bonnet cnstruction, threads are away from the line fluid and easy to lubricate.normal stop valve,the inlet and outlet on a straight line,but the inlet of the angle type globe valve and outlet of the angle type globe valve are perpendicular to each other,so the resistance coefficient of fluid for angle globe valve is higher than conventional globe valves. so the angle type globe valve on can used for vertical installation.
The angle globe valves are generally available with plug type disc and slap type disc, they also are the forging, so it is very strong, the disc can rotate around itself,so it no need with the stem rotate simultaneously ,when the workers open and close the valve(Rotary the stem),this This structure design ensures the disc is not easy to wear . which is designed to give leak tight seating over a long period of in built wear life. the seat ring of the globe valve is replaceable type, the threaded seat ring which has large taper area that is for ample seating. Two nos. slots are provided on seat ring of body, which is for easy removal for servicing at site. Welded type seat ring & Integral seat ring are also available in globe valve. all of stems are made from solid one piece construction.they also are forging, the yoke bush of globe valve has a long thread engagement for accurate stem alignment. The standard range of our company's globe valve in sizes of up to 12 (300mm)
The features for angle type globe valve:
Design standard as per: BS1873,ASME B16.34, GB/T 12235, DIN3356
Generally, lift of disc is just 1/4 of the valve seat port, ensuring a short opening and closing time.
Only one sealing face is designed on the valve body and valve disc,
For large size valves will be designed with main disc and vice disc type, and medium flow from up disc to down disc.
Full stellite overlay seat sealing surface
Good for manufacturing process and easy to maintain.
The valve is designed as a back seat sealing structure.
Use flexible and woven graphite collaboration type packing or PTFE packing(V type).
Dimensional drawing for angle globe valve: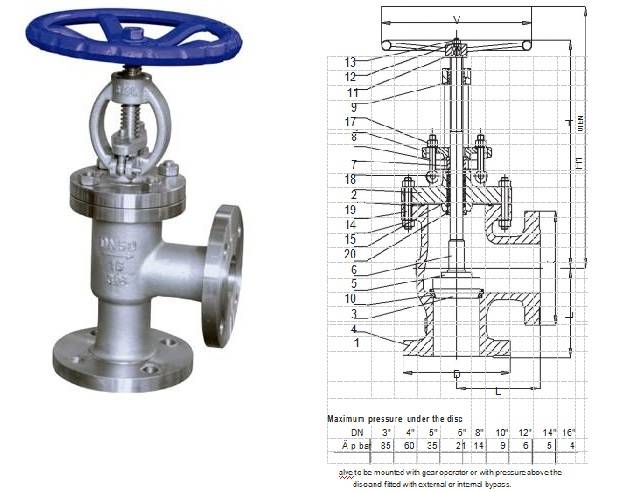 standard features
Description: BOLTED BONNET,OUTSIDE SCREW AND YOKE ,RISING STEM ,RISING HANDWHEEL,SWIVEL PLUG DISC,RENEWABLE SEATS
Design: BS 1873,ASME B16.34,WALL THICKNESS TO API 600
Face to face ASME B16.10
Flanges ASME B16.5
BW ENDS TO ASME B16.25
Testing API 598

API 6D,BS 6755,Rating ASME B16.34,Marking MSS-SP 25 CE - PED,Certificates EN 10204 – 3.1 B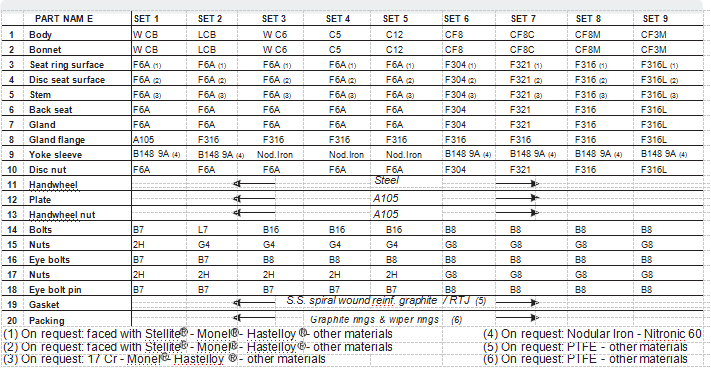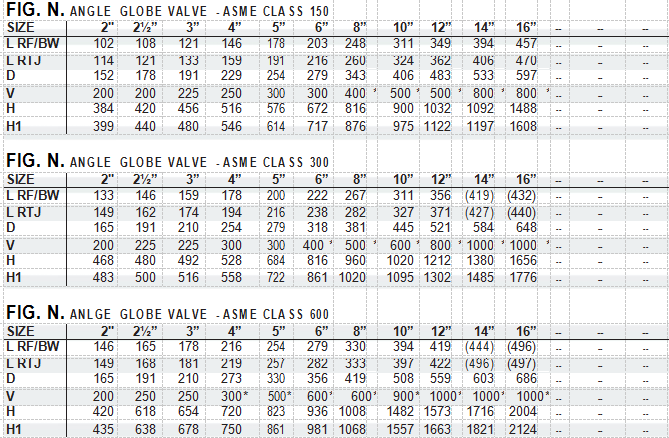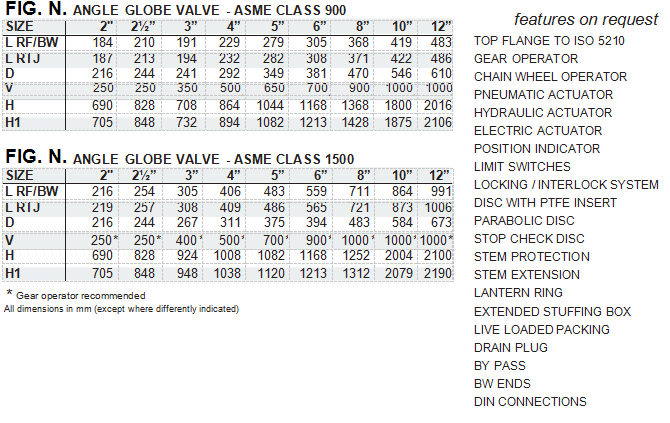 Related Products